Children's Dental in Central Hong Kong
Starting Good Habits Early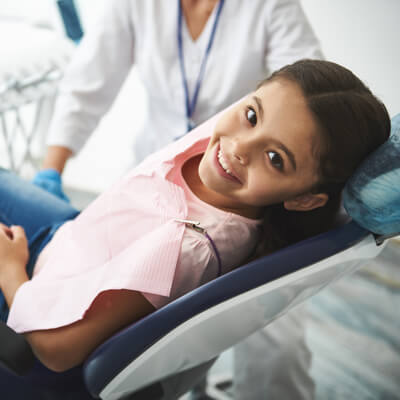 At Diestel & Partners, we want to help your child establish good oral health habits early, so they can have a beautiful, healthy smile for life. Our paediatric dentists are experts in helping kids get comfortable with the dentist's office, so it's not a scary ordeal for them.
What to Expect
We recommend bringing your child for their first dental check-up when they're about a year and a half or two years old. By age two, your child should use fluoride toothpaste. At their first visit, we'll first do a quick look in the parent's mouth to model what the child can expect. If kids are quite little or nervous, they can sit in a parent's lap for their exam. Otherwise, they can sit in the chair.
It's important that we take our time to let your child get used to the environment. We show them how the chair works, let them see the water and suction, and allow them to hold some instruments (not the sharp ones).
Once they're comfortable, we'll give them a mirror to hold, and we'll have a look in their mouth together. We'll explain any issues we find and discuss how to help your child brush effectively
and take care of their teeth (or how to brush for them, if they're too young to do it themselves). We'll also answer any of your questions.
Braces
For older kids, parents often want to know if their child needs braces. We have an orthodontics specialist in our practice, and we will refer you to them for an evaluation if needed. Orthodontics can begin as early as six or seven, depending on the child's specific situation. Early intervention with orthodontics can make certain conditions easier to address by working with the child's normal growth patterns.
Book Today
Contact us today to schedule an appointment for your child.
Contact Us »

Children's Dentistry Central Hong Kong | +852 2522 2099