Wisdom Tooth Extractions in Central Hong Kong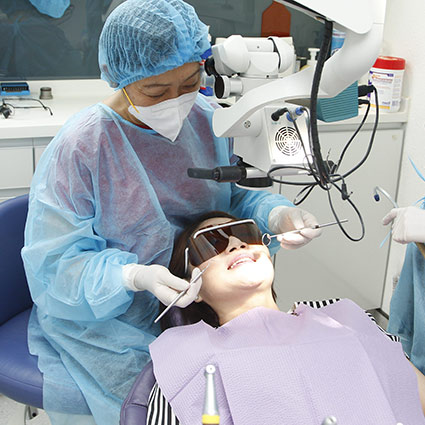 Wisdom teeth don't always need to come out, but if they are creating problems, such as crowding the other teeth, or if they're impacted and causing pain, your Diestel & Partners dentist may recommend removing them. For simple extractions, your dentist can perform the procedure. If it's a more complicated situation or if bone needs to be removed, we will book the procedure with one of our oral surgeons.
What to Expect
We'll do a thorough examination, including X-rays, to determine our plan of action. We'll explain the process to you and go over your options for sedation, including happy gas.
Wisdom tooth extraction makes some patients nervous, and we will take the time to ensure that you feel comfortable with the process before we begin. If you prefer general anaesthesia, we will book an anaesthetist to provide sedation for you.
After your extraction, we will send you home with pain medication and antibiotics, along with printed after-care instructions. We also give you the personal mobile number of our dentist, so you can call or message him with any questions or concerns. And our team will call you the day
after your procedure to see how you're doing and answer any questions you may have.
Frequently Asked Questions
How much does wisdom tooth extraction hurt?
You will not feel anything during the procedure. We have various options for sedation and will ensure you are numb throughout. If you're nervous, talk with your dentist—we can help calm your nerves and feel comfortable with the process.
Depending on your specific situation, you may have some bruising and swelling, and it may be difficult to open your jaw wide for a week or so. Your dentist will let you know what you can expect in terms of healing and work.
Book Today
Contact us today to schedule an appointment to have your wisdom teeth assessed.
Contact Us »

Wisdom Tooth Extractions Central Hong Kong | +852 2522 2099