Teeth Whitening in Central Hong Kong
Offering Two Options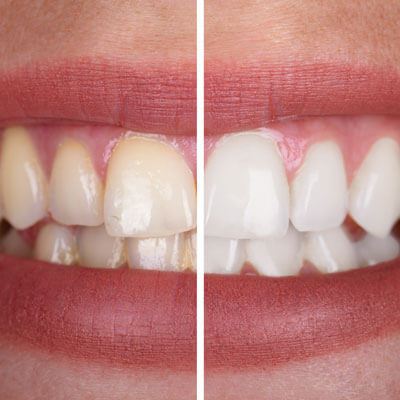 Teeth whitening can often be a good way to brighten your smile if the problem is simple staining or discolouration.
At
Diestel & Partners
, we offer two options for brightening your smile: in-chair and at-home. We use Zoom products for either option.
What to Expect
Before commencing with the procedure, we want to ensure your teeth and gums are healthy. We'll book you in for a consultation, and if your teeth haven't been cleaned in the last six months, we'll do a cleaning. Then your dentist will examine and assess your main concern.
In some cases, misalignment causes staining, so we'll let you know that. We'll also take X-rays—if you have any cavities, these will need to be filled before your teeth brightening treatment to protect the teeth. And we'll look at whether you've been brushing too hard, which may require some corrective work before beginning the treatment.
Based on our examination, we'll let you know if we recommend the in-chair or at-home method for you. Depending on your situation, if your teeth and gums are healthy, we may do the in-chair process the same day. After your session, we recommend using Zoom home whitening gel to maintain your desired tooth colour at home.
Frequently Asked Questions
Your in-chair results can last anywhere from a few months to as long as six months, depending on the foods and beverages you consume and your oral hygiene. If you maintain your smile with at-home brightening, it can last up to two years.
How can I help my teeth stay white longer?
Avoid eating or drinking staining foods or beverages immediately after your whitening. A sonic toothbrush can help prevent staining to some extent. And if you do eat anything staining, try to rinse out your mouth with water afterwards to minimise staining.
Schedule Today
Contact us today to book an appointment to brighten your smile!
Contact Us »

Teeth Whitening Central Hong Kong | +852 2522 2099